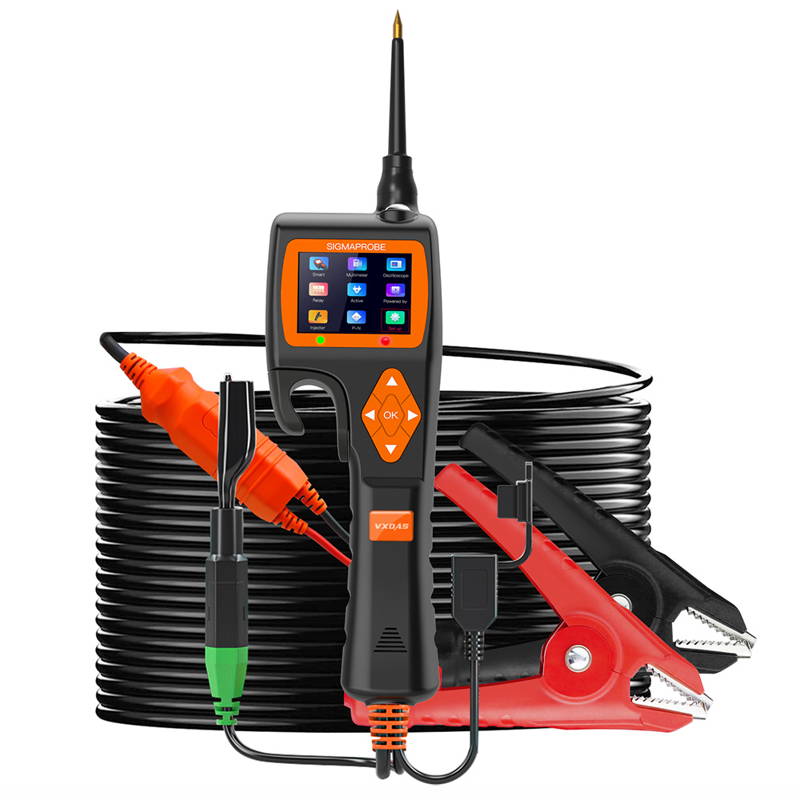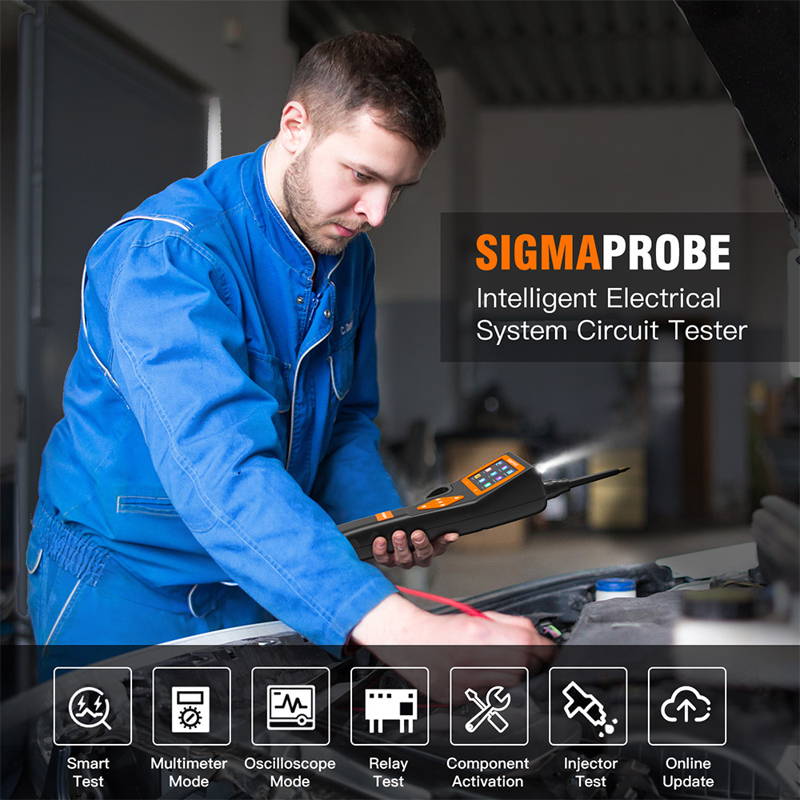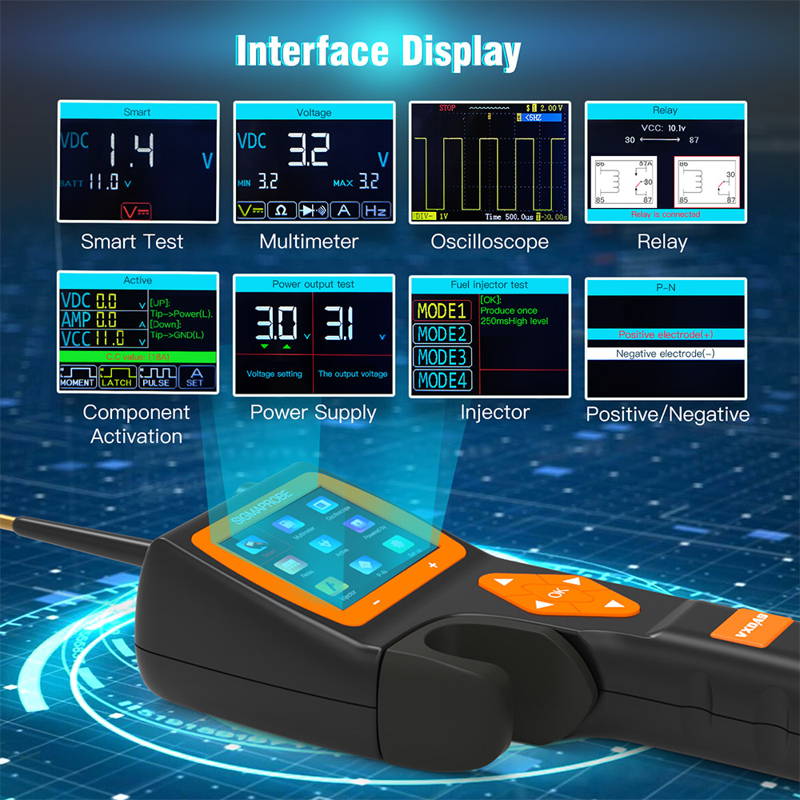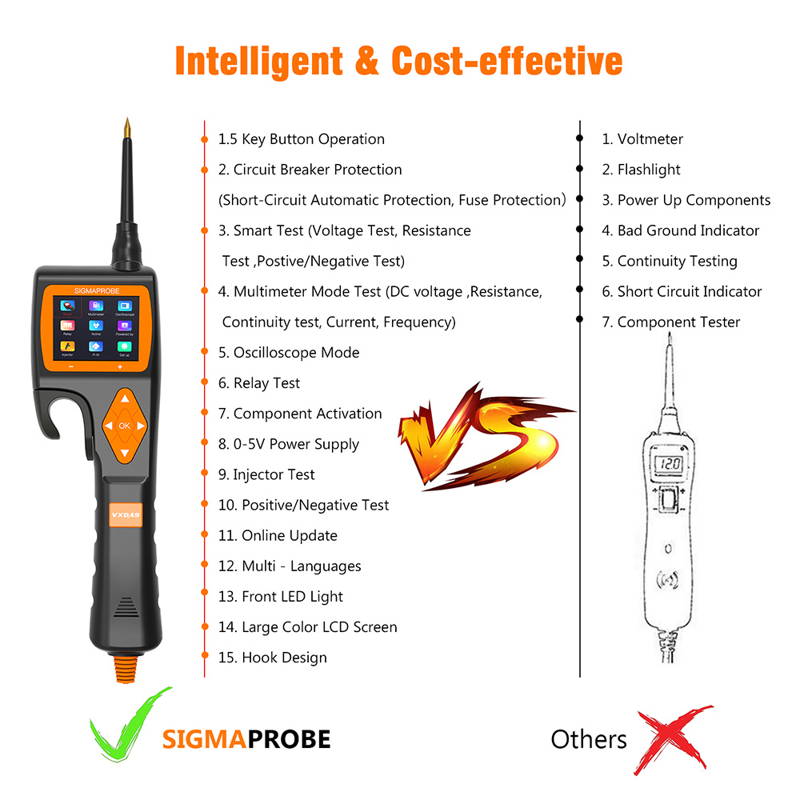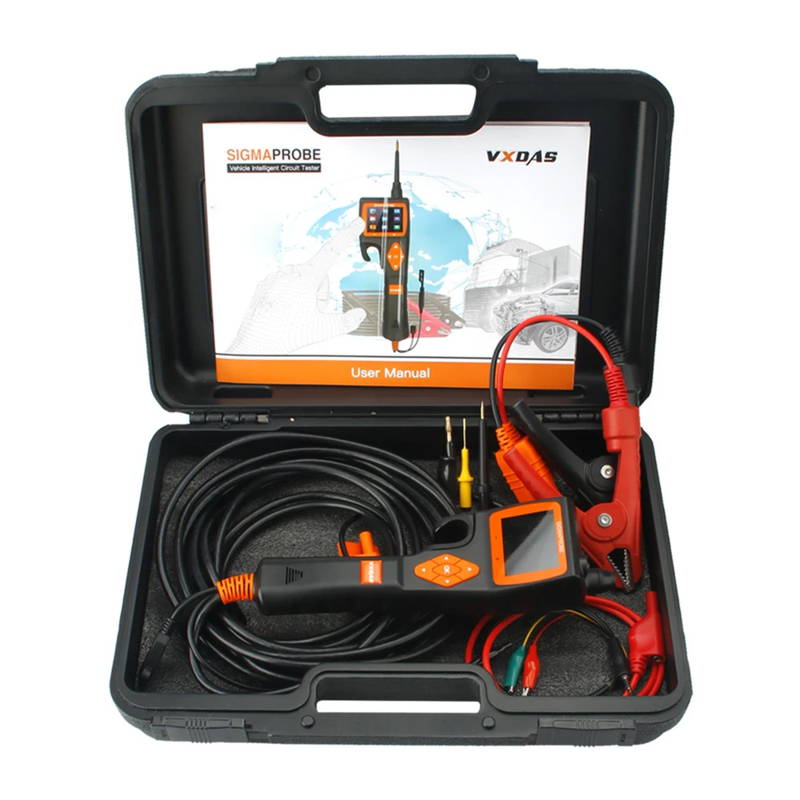 SigmaProbe Smart Circuit Tester
Diagnose Vehicle Circuit Problems Efficiently!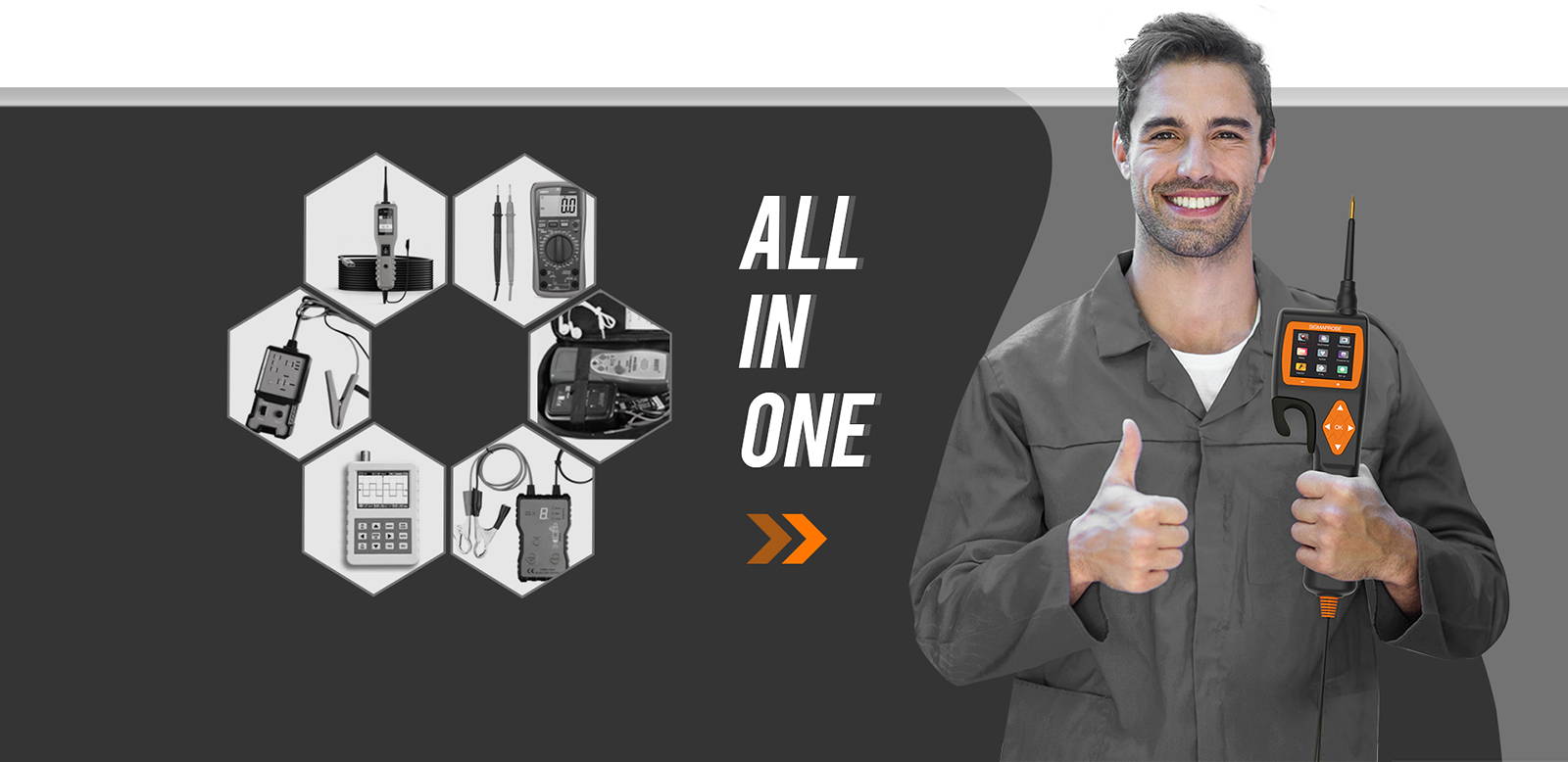 The Only Circuit Tester You'll Ever Need!
SigmaProbe Covers 90% Automotive Circuit Testing Scenarios.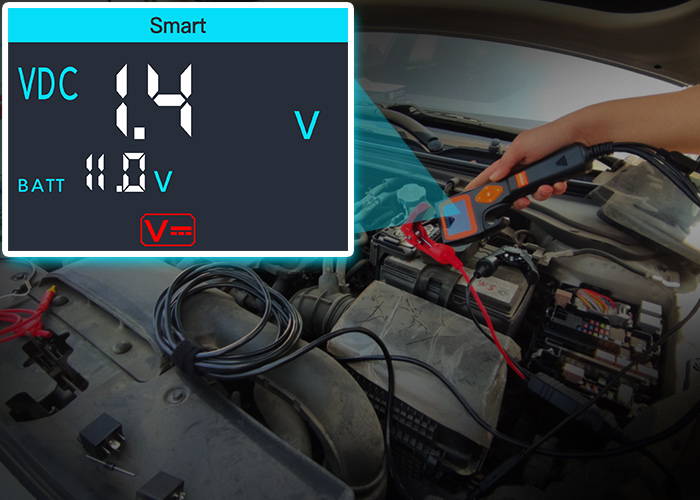 One click to identifies voltage, resistance, positive/negative
SigmaProbe™ recognizes the measured signal and displays values of VDC, OHM, AMP, P/N automatically in one mode.
No need to switch between different test modes.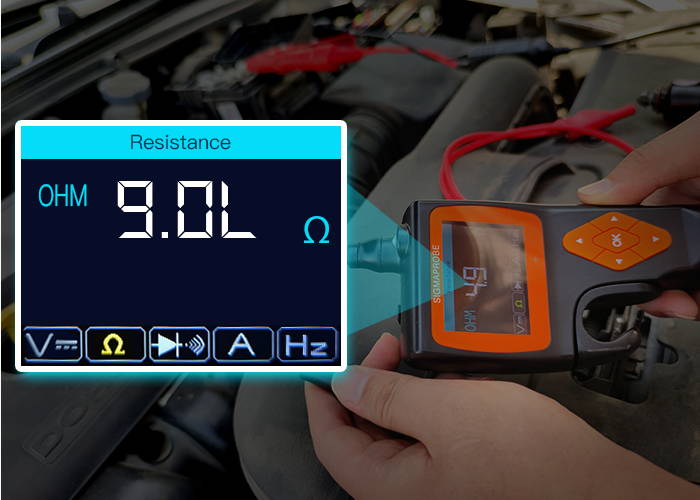 No multimeter is needed to test DIO\HZ\Duty Cycle
SigmaProbe™ support voltage, diode, current, resistance, & frequency test.Testing the condition of the wiring or components of an automotive circuit system through continuity testing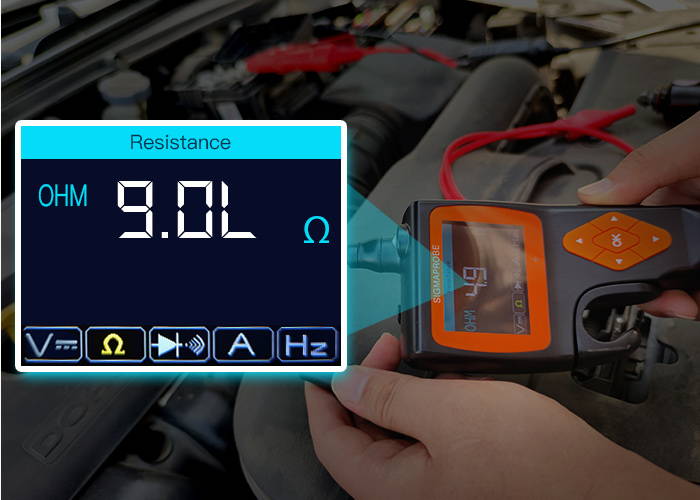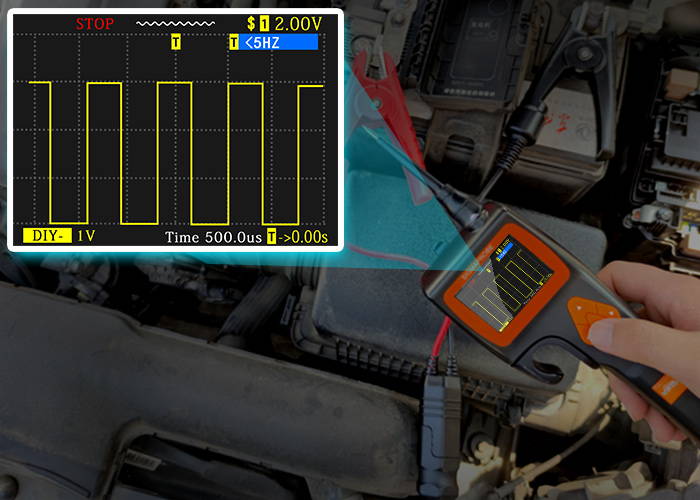 Help you sampling & analysis the electrical signals efficiently
Maximum 50KHz bandwidth, 800KSa/s sampling rate.
The SigmaProbe™ sampling time interval setting is available. which is used to measure AC voltages and can be used on any AC voltage or pulse waveform signal.
SigmaProbe™ can be used for tests such as checking diode ripple in alternators, ABS sensors, crankshaft sensors, etc.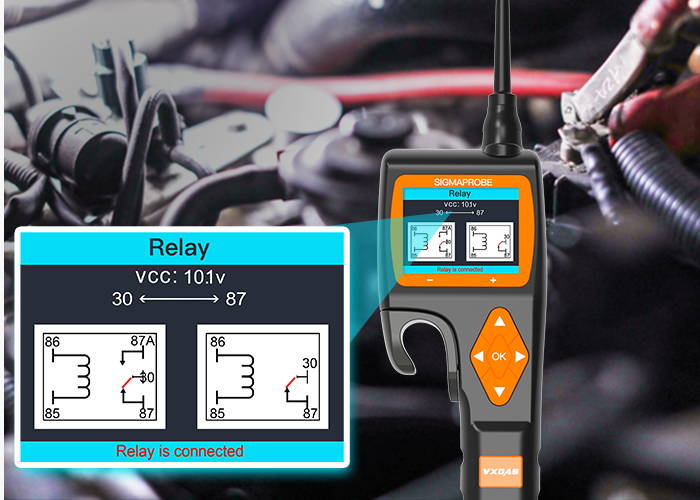 Even newbies can get you up and running quickly
SigmaProbe™ offer 2 types of common automotive relay (5-terminal relay and 4-terminal relay) connection guide diagrams.
Easy to diagnose the relay condition. No worry mistake connection burned the component.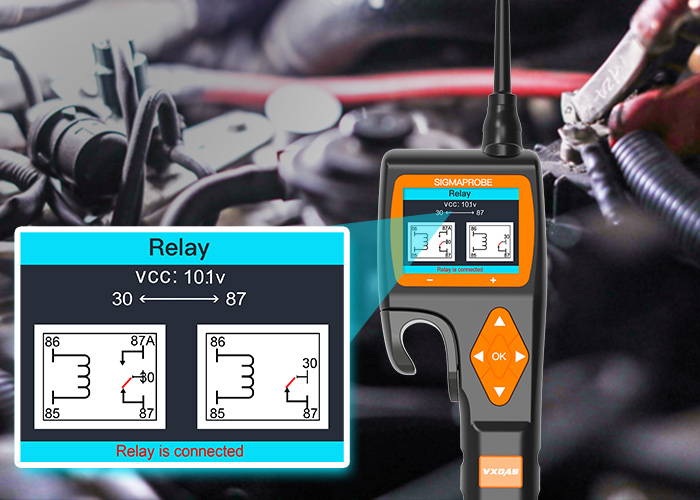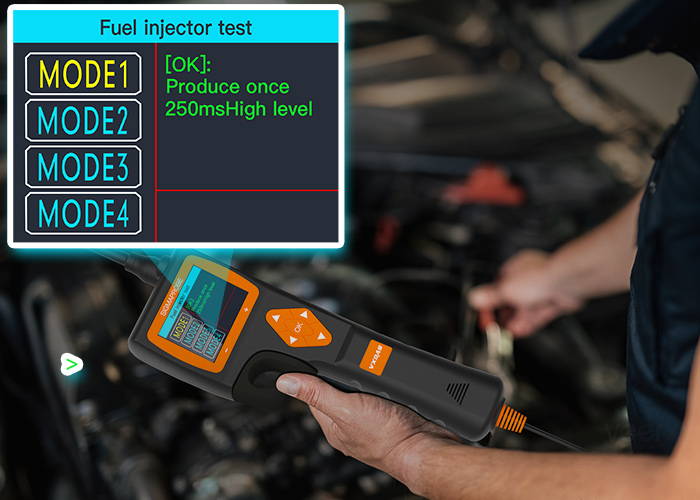 4 Pulse signal test, know your injector status more accuately
The SigmaProbe™ outputs different pulse signals to the injector and checks the spraying status of the injector. This function can help diagnose injector conditions. It can be used with any fuel pressure tester.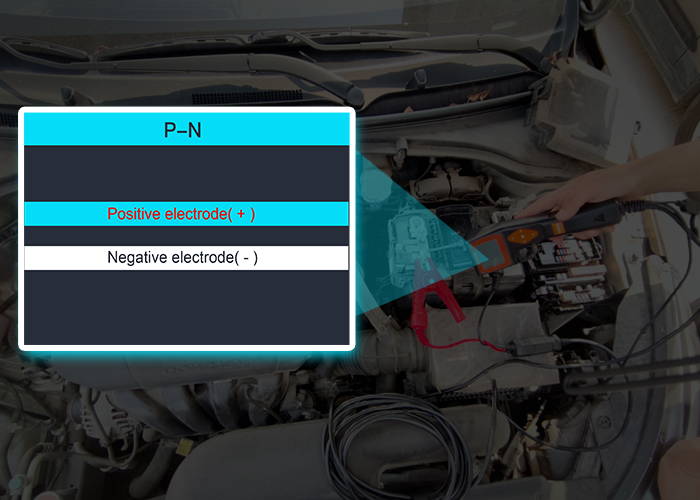 Automatically judge the positive/negative poles and display on the screen
Use the Probe Tip to find the positive/negative wire of the power supply.
Through the identification of the probe, the positive interface voltage or negative grounding icon will be displayed on the screen.
Through the identification of the probe, the positive interface voltage or negative grounding icon will be displayed on the screen.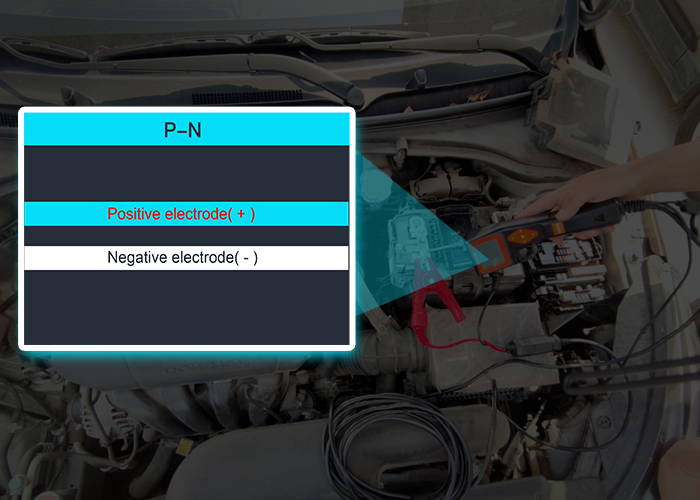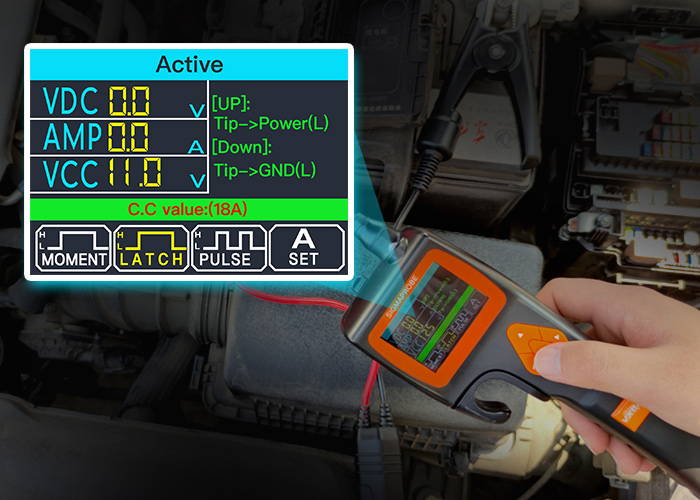 Test isolated components instantly by hooking up the SigmaProbe™ to the car battery
SigmaProbe™ has 3 activation modes:
MOMENT (moment activation)
LATCH (lock activation)
PULSE (pulse activation).
It's able to apply battery power or ground right to the probe tip gives you the ability to activate and dynamically test electrical components such as lights, motors, horns and other.
(Note: Can not be used for ECU, sensor module casually, there is a risk of burning)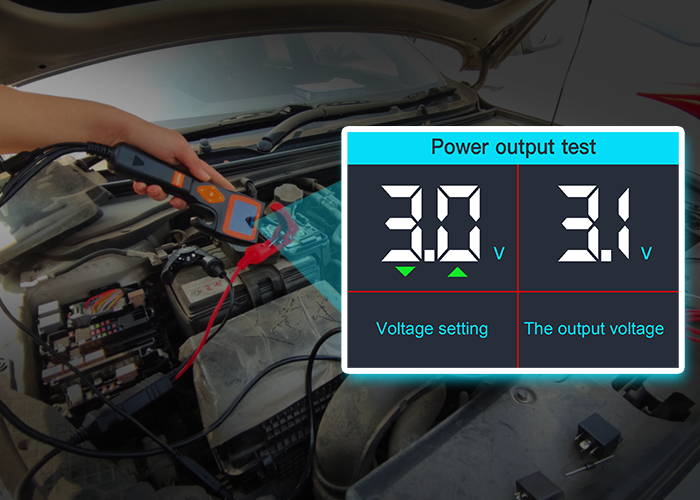 Supports 0-5V voltage power supply, simulate the voltage output by the sensor to the ECU
Simulate the voltage output by the sensor to verify the wiring to the ECU. Sigmaprobe supports a power supply voltage of 0-5V.
Note: 0-5V power supply mode designed as an active mode, but its function is different from the component activation mode. It can adjust the voltage output under 5V and limit the current to 100mA.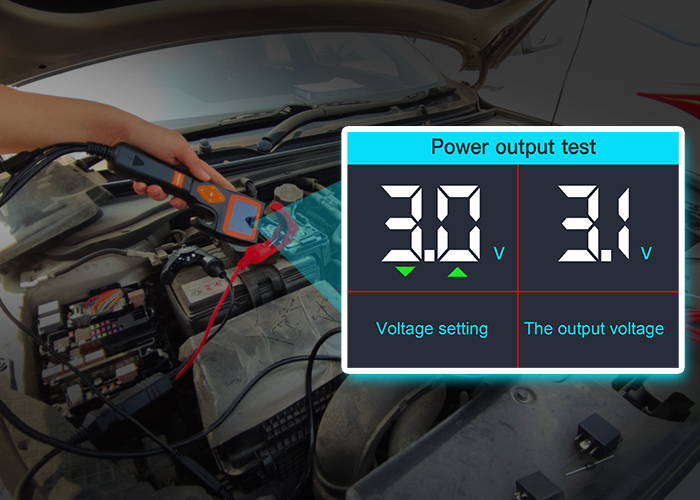 What are the Advantages of SigmaProbe?

High-quality accessories
all in one storage
The Sigmaprobe and all accessories are stored in the tool box.
It is easy to carry, store and use, and is not easy to lose.
Double Overload Protection, Safe and Easy to Use

Power supply reverse protection
Built-in overload protection
All copper inner core, PE line pipe
Genuine materials, durable & wear-resistance
Customized 20ft test line
for automotive circuit testing environment


Lighting up the surrounding night and day
Low power consumption,
high performance

Easy to handle and store.
Fully enclosed anti electric
shock alligator battery clip
4 Steps Easy to Use the SimgaProbe Diagnose Circuit Problem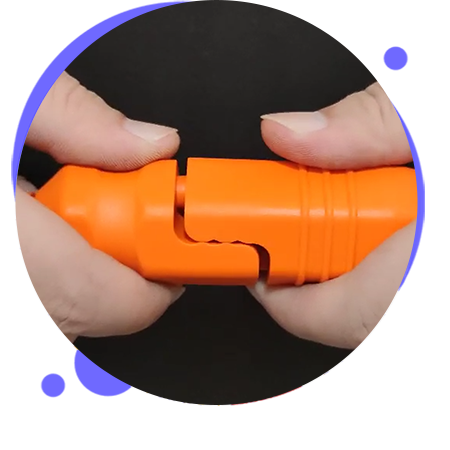 STEP 1: SigmaProbe Main Unit Connect to Alligator Clips
Connect SigmaProbe main unit to alligator power connector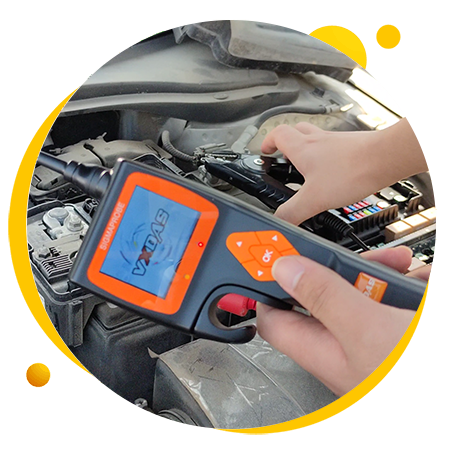 STEP 2: Alligator Clips Tie To Battery
Alligator clips connect to Positive & Negative of the battery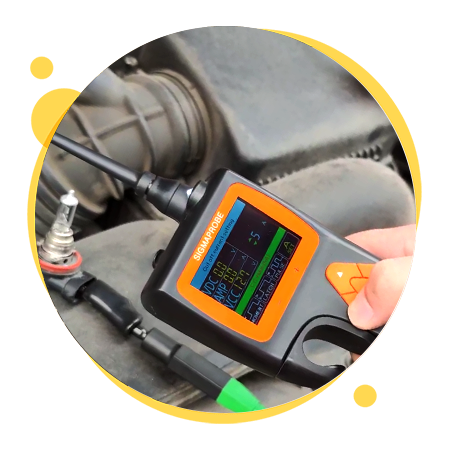 STEP 3: Click "OK" Button In SigmaProbe
5 keys operating to choose the test function for working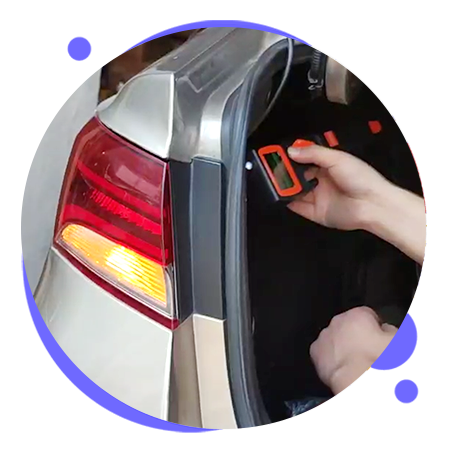 STEP 4: SigmaProbe Start Diagnose
Connect Probe to circuit, relay, injector anywhere you need check to start electronic diagnose
18A maximum continuous current flow | 0.1-150V measuring range | 9-30V working voltage

SigmaProbe Currently Support 14 Languages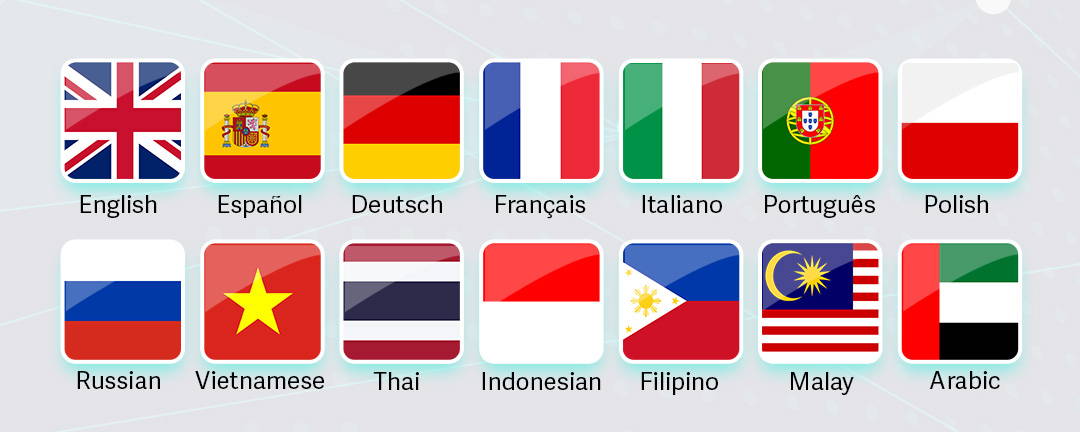 Sigmaprobe Currently Support 14 Languages

SigmaProbe Currently Support 14 Languages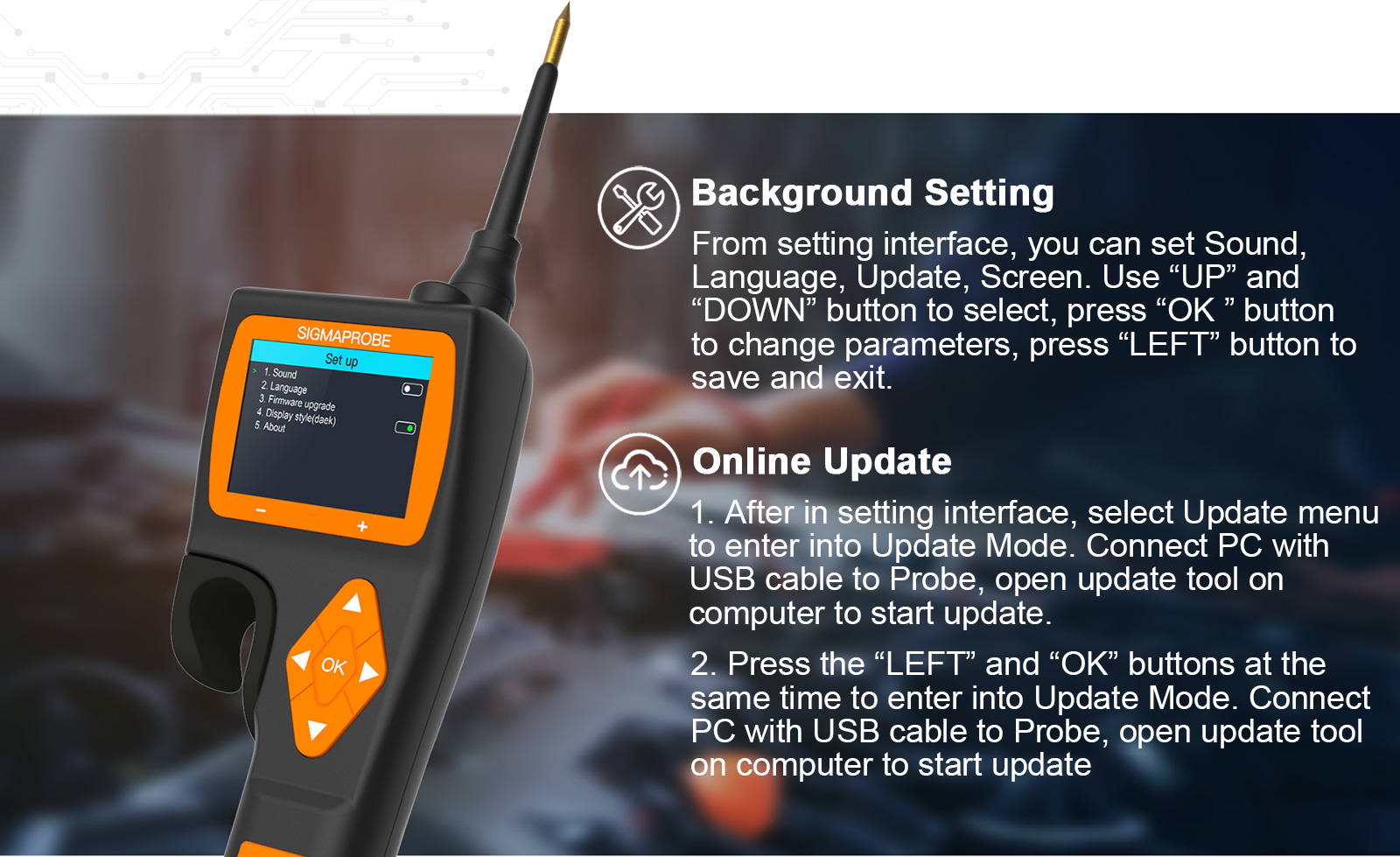 Keep up-to-date with the latest product features.

"Bright Mode" or "Dark Mode" , Choose as You Like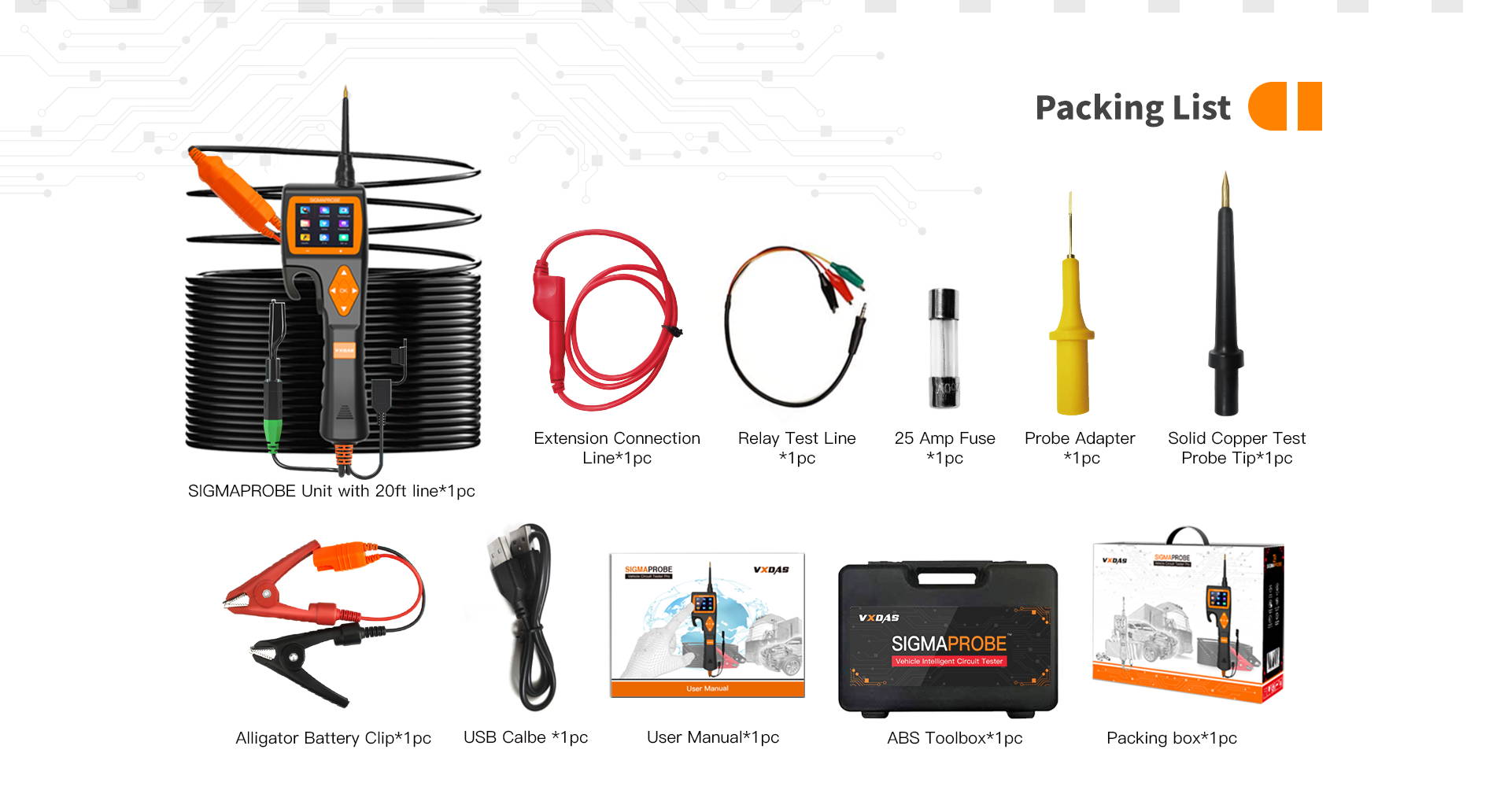 SigmaProbe Specifications
①
Display screen: (320 * 240 DPI) TFT true color display
②
Operating temperature: 0-60 ° c (32-140 F °)
③
Storage temperature: 40-70 ° c (-40-185 F °)
④
External power supply: battery powered 12V or 24V
⑤
Minimum operating voltage: 9V
⑥
Maximum operating voltage: 30V
⑦

Maximum measuring voltage: 150V
⑧

Minimum measuring voltage: 0.1V
⑨

Resistance measurement range: 1 ~ 200K ohm
⑩

Current measurement range: 0 ~ 18A
⑪

Maximum continuous current: 18A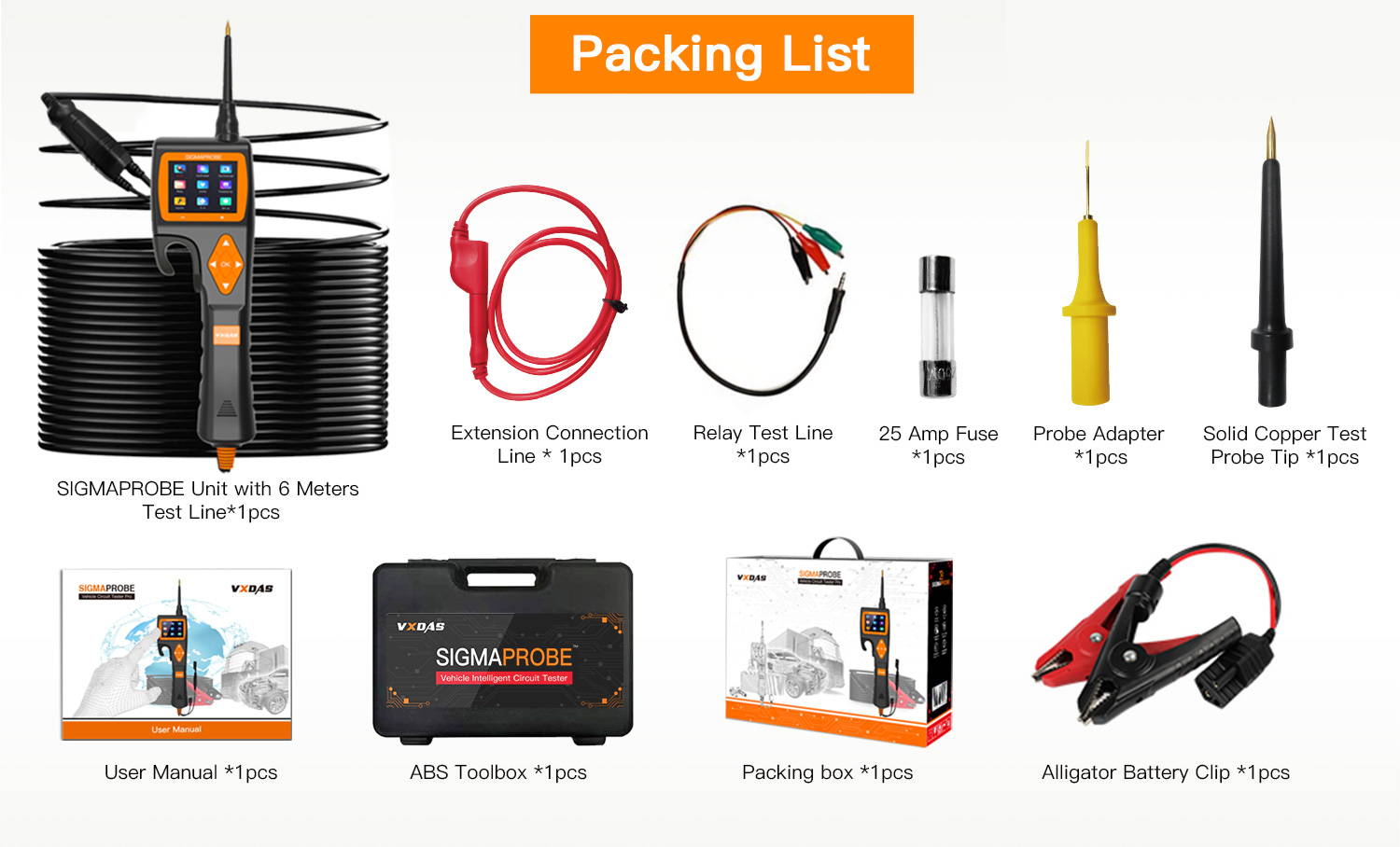 Frequently Asked Questions
Q: When will the order ship out?
A: Order ship out within two working days. The tracking number will update under order information.
Q: How can I contact SigmaProbe when I need help for SigmaProbe?
A: SigmaProbe offers technical support; keep your order No. to contact support@sigmaprobetek.com when you need after-sales service.
Q: When will the order ship out?
A: The parcel will be shipped by express way; estimate 3-9 working days arrive.
A: SigmaProbe support 30 days return with, two-year free warranty.
Q: Does the cost including shipping? Do I pay for shipping fee?
A: The price including the shipping fee, no need to pay an extra shipping fee.
Q: If I need a large quantity, what's the price?
A: SigmaProbe is considering a dealer partnership, please contact vip@sigmaprobtek.com
Q: Where can I get the SigmaProbe guide?
A: SigmaProbe comes with an instruction user manual. You can visit www.sigmaprobetek.com to check the instruction video as well.
Q: Is it possible free duty delivery to Europe?
A: SigmaProbe EU storage will start delivery from 1st June, supporting free-duty delivery to the EU.
Try Yours Completely Risk Free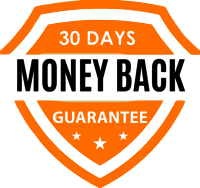 We offer a 30-day no-questions asked money back guarantee on all orders. We make sure all of our customers are 100% delighted with their purchase.